Experience Luxury by Hiring Our Mercedes V Class Chauffeur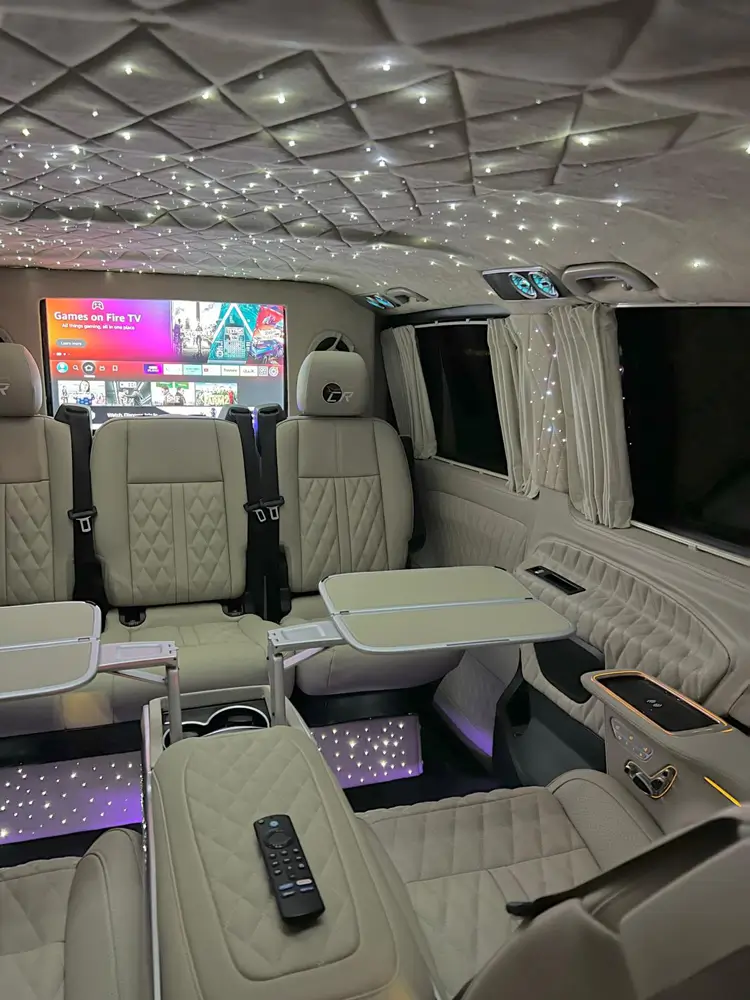 We, the CR Road Plane, are the leading London-based chauffeur company offering luxurious Mercedes V Class Chauffeur to hire. If you're seeking the pinnacle of luxury transportation, then look no further than CR Road Plane and elevate your travel experience with Mercedes V Class hire in London. Our fleet of stylish and spacious Mercedes V-Class is designed to provide you with the convenience and luxury you seek. Choose CR Road Plane for the best chauffeur service in London.
Experience Unmatched Luxury with Mercedes V Class Hire in London
We take pride in providing exemplary services when our customers hire Mercedes V Class chauffeurs tailored to specific needs. We at CR Road Plane make sure your journey becomes memorable because every journey deserves the utmost care and attention. By opting for Mercedes V Class hire from CR Road Plane, you will enjoy a luxurious travel experience. Instead of worrying about navigating busy streets, parking, or waiting for public transportation, you can relax while our professional chauffeur in London handles all your transportation needs. It eliminates the stress and hassle of driving, allowing you to focus on more important things or enjoy your journey. When you choose us, you benefit from the following:
Our Mercedes V Class Chauffeur offers a luxurious, sophisticated ride with premium features and a sleek design. Experience the elegance of well-maintained interiors while enjoying a comfortable journey with the finest amenities.
Our team comprises highly skilled and professional chauffeurs who understand London's roads in-depth. They are dedicated to providing our valued customers with impeccable, hassle-free, and comfortable rides. Their years of experience and commitment to customer satisfaction make them the best in the business.
We go above and beyond to ensure our clients enjoy a top-notch service that exceeds their expectations. At the heart of everything we do is a commitment to providing outstanding service that leaves a lasting impression. We take pride in our work and are passionate about delivering an exceptional experience that you will remember.
Hire Your Mercedes V Class Chauffeur Today
At CR Road Plane, everyone should have access to luxury. That's why we offer our Mercedes V Class hire services at a starting price of just £350 for one-way travel, making it an affordable option for those who want elegance without breaking the bank. Our chauffeur hiring process is hassle-free and easy to use. We offer competitive rates and flexible options so that you can choose the service that suits you best. Trust us for an unforgettable chauffeur experience in London. You can contact us by phone or visit our user-friendly website to book your Mercedes V Class chauffeur today.
Luxury Mercedes V Class Pricing
Mercedes V Class CR Road Plane
VIP Cabin Area
Vehicle Amenities
Onboard Entertainment
VIP Cabin Area
Extended legroom floor rails
Bespoke upholstered kickplate
Starlight ceiling with shooting stars
Bespoke leather-edged floor mats
Bespoke blackout privacy curtains
Vehicle Amenities
Onboard Entertainment
Arrive in Style with Mercedes V Class Hire Service
Experience sophistication with CR Road Plane's Mercedes V Class hire service in London. Whether you're a business traveller and need reliable airport transfers or a tourist exploring the wonders of London, our chauffeur-driven Mercedes V Class offers the perfect blend of comfort and style. Step inside our spacious hired Mercedes V Class, and you'll find yourself surrounded by lush leather seating, state-of-the-art amenities, and a serene ambience. With ample legroom and thoughtful features, you can relax, catch up on work or enjoy the unforgettable journey that begins with Mercedes V Class Hire service.
Crafting Experiences for London's Discerning Audiences
Tailored for the vibrant city of London, our services are designed for everyone who appreciates the finer things in life. Indulge in the epitome of luxury with CR Road Plane. Whether it's a special occasion or a desire for a lavish travel experience, our Mercedes V Class is ready to exceed your expectations.
Elevate your journey with CR Road Plane – where luxury meets tradition, and every ride is a style statement. Book your Mercedes V Class experience today, and let us redefine your travel expectations.
Frequently Asked Questions